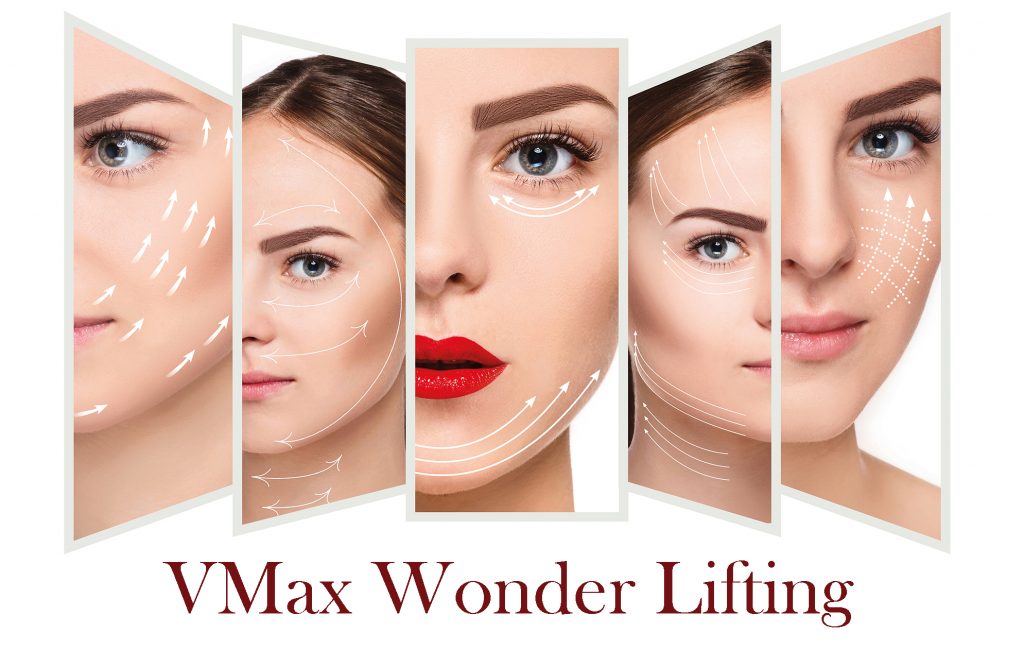 Face Lifting
$115/1 Session and Treatment Combo $1,275/ 15 Sessions => $85/ 1 Session
The issue of facial aging is always most of our female concern !!
Do we think you are no exception, right? Have you heard of Vmax Wonder Lifting? Let's learn about this issue together.
Vmax Wonder Lifting is a skincare treatment that helps your facial skin prevent the aging process but does not need cosmetic surgery. We deliver a high-intensity focused sound wave (HIFU) that hits 3.5 mm to 4.5 mm of the cell layer behind your skin, fully penetrating the muscle layers underneath your face. HIFU works against skin aging more effectively than using lasers because the lasers will stretch your face. In addition, conventional lasers will produce a variety of factors affecting the facial skin that makes your facial skin drier, thinner and less stretched, resulting in sagging face. Therefore, we use Vmax Wonder Lifting therapy, they have 2 main modes: burn, lift facial muscles, accompanied by 6 advanced beauty functions such as: blurring wrinkles, shaping face V- line, remove fat cells under the skin, increase skin elasticity to help skin stretch and more youthful, especially can erase freckles on the face.
Vmax Wonder Lifting has a face-shaping mechanism by breaking the excess adipose tissue under the skin from 10mm to 20 mm deep.

Vmax Wonder Lifting has a direct and effective impact in areas such as:
Face
Decolletage (chest area)
Jaw sugar
The area under the chin
Benefits of using Vmax Wonder Lifting treatment:
Save time
Does not cause irritation to the skin of the face
The ultrasonic waves do not break the face
Safe for the face.

Vmax Wonder Lifting is an advanced treatment that causes almost no pain to your facial skin, and you do not need to use the anesthetic images like other conventional treatments. The Vmax HIFU beams are controlled by us at 65 ° C, which is the most comfortable temperature level. However, some people experience mild discomfort or short-term mild pain in the treated area.

Results are evident from the first use. Facial skin will be shiny, smooth, elastic, and sagging skin will be recovered quickly, making the face visibly rejuvenated. Vmax Wonder Lifting maintains effective maintenance for many consecutive months.
Vmax Wonder Lifting is suitable for people with mild to moderate facial and neck stretches. In addition, this treatment is also suitable for people under the age of 30, because Vmax effectively prevents skin aging. Currently, we offer Combo Vmax Wonder Lifting from 15 to 25 times with the most preferential price. You can check the price of Vmax Wonder Face Lifting Treatment here
Acne Treatment & Face Lifting
$160/ 1 Session and Treatment Combo $2,400/ 20 Sessions => $120/ 1 Session

Spicy and greasy eating habits cause your skin to change its pH and cause acne. Your daily foods are too starchy and using dairy products regularly can also make acne worse.

Stressful daily work produces more of the hormone cortisol. It will make your skin drier, leading to dehydration of your facial skin and weakening your facial skin. In addition, they also secrete mucus that gives acne more opportunities to grow.

We understand that acne treatment is the top concern of everyone, especially women. In many countries, it has become more common to visit Beauty Salons for acne treatments. In particular, Australia is a country with hot sun and extremely high UV intensity, making women's facial skin become dry, this is an opportunity for acne to develop and worse, skin cancer.

Our Acne Treatment & Face Lifting includes:
Our staff will review your facial skin and they will assess your facial skin condition and acne. Next, they will clean your skin according to the spa's acne treatment routine. Your facial skin will be cleaned with our facial cleanser and our Spa staff massage techniques will help your facial skin to stretch and shape your face. After that, your facial skin will cleanse deeper by steaming the essential oils. And after that, we will use exfoliants to remove harmful substances that remain on your face.

Your facial skin will become cleaner, soft and pores will loosen. This will make it easier for us to get rid of acne on your skin. Our specialists will remove your acne from your face and leave no damage.
Next, our technicians will use premium acne creams to penetrate your skin, they will penetrate deep below your skin, when they dry again will bring your acne. outside your facial skin.

The ultimate in our acne treatment is the smart 7-colour LED mask. They will help your facial skin relax and limit blemishes and antibacterial on your face effectively. With 7 smart LED colours, it will make our acne treatment better and effectively prolong the treatment. You can check the price of Vmax Wonder Face Lifting Treatment here
Freckles Treatment
$150/1 Session and Treatment Combo $2,600/ 20 Sessions => $130/ 1 Session

Freckles are not only dangerous to the health of women, but also greatly affect the aesthetics, because they make women less colorful and uneven faces.
The reason why women have those freckles is due to frequent exposure to the sun contains a lot of UV rays. The most frequently exposed areas of the skin are: the skin of the face, neck, shoulders, chest and arms. They will produce round brown and black spots that will not match the color of your skin.
At our Perth Nails in Northbridge , the removal of freckles is the first good service and is trusted by the customer the most. Because our method of fading freckles at Spa tends to use high quality natural ingredients, does not cause skin irritation and using Vmax high-end equipment along with Smart LED Mask will erase blurring your freckles without causing pain or discomfort.
Effectiveness will be seen after the first use of our service.
Currently, customers who use our Treatment Package will receive the best deals at Northbridge, Perth. Accompany it is the best service no other Beauty Salon has.

Our Perth Nails in Northbridge prides itself as the premier Beauty Salon in Northbridge, Perth. Please contact us to get more deals and best services.